Galel Fajardo is a performance coach with a passion for helping people reach their highest potential. A graduate of the University of California at Irvine, Galel obtained his B.A. in Political Science and Minor in Humanities and Law. During his time at UC Irvine, he worked as an intern on Capitol Hill for a United States Representative, later working as his Deputy Campaign Manager for three years.
After leaving politics, Galel transitioned to the mortgage industry, where he worked as a broker originating A-paper loans, obtaining most of his clients by referral. After a few years of working for other companies, he opened his own brokerage in 2007. As the mortgage industry began to suffer as a result of the limits on credit due to the 2008 financial crisis, he had to find more ways to obtain new business. During this time, he learned website development, digital marketing strategies, and coached junior varsity and varsity baseball at his alma mater, Costa Mesa High School.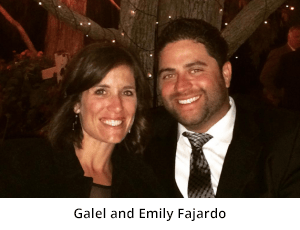 The financial crisis took its toll on the business, eventually forcing him and his wife Emily to close their mortgage company. Having to find a way to support him and his family, he began working as a digital marketing consultant, helping small business owners improve their online presence with improved sales processes and lead nurturing practices.
Galel completed his Master's degree in Performance Psychology at National University in November 2016. His personal journey as a business owner, experiencing the ups and downs of the economy, all while working to maintain physical and emotional health, has led him to become passionate about helping others.
Galel and Emily live in Orange County, CA, with their two children and chocolate lab Mikey.